~ ~ ~ ~ ~ ~ ~ ~ ~ ~ ~ ~ ~ ~ ~ ~ ~ ~ ~ ~ ~ ~ ~ ~ ~ ~ ~ ~ ~ ~ ~ ~ ~ ~ ~ ~ ~ ~ ~ ~ ~ ~ ~ ~ ~ ~ ~ ~ ~ ~ ~ ~ ~ ~ ~ ~ ~ ~ ~ ~ ~ ~ ~ ~ ~ ~ ~ ~ ~ ~ ~ ~ ~ ~ ~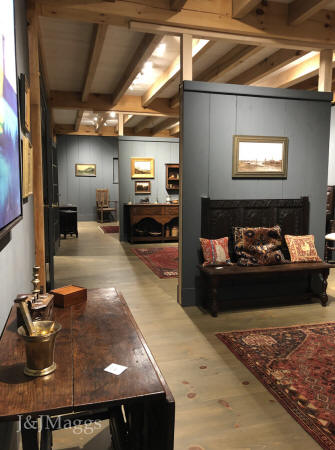 The long gallery, ready for last spring's show
~ ~ ~ ~ ~ ~ ~ ~ ~ ~ ~ ~ ~ ~ ~ ~ ~ ~ ~ ~ ~ ~ ~ ~ ~ ~ ~ ~ ~ ~ ~ ~ ~ ~ ~ ~ ~ ~ ~ ~ ~ ~ ~ ~ ~ ~ ~ ~ ~ ~ ~ ~ ~ ~ ~ ~ ~ ~ ~ ~ ~ ~ ~ ~ ~ ~ ~ ~ ~ ~ ~ ~ ~ ~ ~
Each Spring and Fall, following our semi-annual buying trips to England, we celebrate our return with a gala weekend in the shop, at which our newly acquired antiques receive their first showing. These events have become the high points of our business year, as customers and friends continue to come to Conway from all over the Northeast.
We're open from 10:00 until 4:00 on both days.
Last Spring we added a feature to the weekend, designed to include customers who are unable to come to the show. On Sunday morning we posted an email that listed more than one hundred new pieces. At the time we jokingly called it the "Sunday Splash" and that name seems to have stuck. This year's Sunday Splash will appear around 10:00 a.m. on Sunday the 10th.
Newly listed inventory will also be included in our November newsletter on Tuesday the 19th.
We invite all to join the excitement in whichever way suits you.
~ ~ ~ ~ ~ ~ ~ ~ ~ ~ ~ ~ ~ ~ ~ ~ ~ ~ ~ ~ ~ ~ ~ ~ ~ ~ ~ ~ ~ ~ ~ ~ ~ ~ ~ ~ ~ ~ ~ ~ ~ ~ ~ ~ ~ ~ ~ ~ ~ ~ ~ ~ ~ ~ ~ ~ ~ ~ ~ ~ ~ ~ ~ ~ ~ ~ ~ ~ ~ ~ ~ ~ ~ ~ ~ ~ ~ ~